CURRENT VACANCIES IN EAST KINTYRE
East Kintyre hosts an incredible range of jobs, both professional and voluntary.  In 2021 alone there were a selection of vacancies quickly filled at Torrisdale Estate, Carradale Surgery, Jewellery Castings Scotland, MOWI-Carradale, Carradale Community Shop, to name but a few.  If we hear of any vacancies we shall post the details here.
Carradale Surgery - General Medical Practitioner
Argyll And Bute Health & Social Care Partnership are looking for a GP to provide Primary Medical Services Under a General Medical Services contract for patients registered with the Carradale Surgery, Argyll
Applications are invited from registered General Medical Practitioners with remote and rural experience to deliver high quality primary medical services responsive to the needs of the 577 registered patients. The practice is based at Carradale and provide surgery at Skipness Village Hall branch surgery once a week. Primary Medical Services will be provided under a General Medical Services Contract (GMS) for the patients of Carradale Surgery.
Out of hours service provision is covered by the Campbeltown Medical Practice through NHS 24.
Carradale is on the stunning west coast of Scotland, situated on the Kintyre Penninsula (overlooking Arran) with beautiful scenery, golden sandy beaches, hills, lochs, and the relaxing atmosphere which the area has to offer. There are several golf courses a wide variety of water sports, photography, archaecology, wildlife, vibrant music culture, seafood, gin and whisky distilleries. Campbeltown is 15 miles away.
Carradale has its own community shop, post office, primary school, garage, restaurants and hotels. More information about Carradale Surgery can be found at www.carradalesurgery.co.uk 
Further particulars can be obtained by contacting Joyce Robinson, Primary Care Manager on 07920 028483 or Evan Beswick, Head of Primary Care on 07825 104260.
Details of the application process and the practice profile are available by contacting Joyce Robinson, Argyll and Bute HSCP Primary Care Manager at joyce.robinson@nhs.scot or Evan Beswick, Head of Primary Care at evan.beswick@nhs.scot 
Carradale Village Hall - Village Hall Secretary
After many years of superb service to the Village Hall Management Committee, Cate Trott has indicated that she will be stepping down as Secretary at the forthcoming AGM scheduled for 18th May 2022.The Committee are therefore looking for a new person or persons to take over – the word persons is used as it is thought there is scope for the previous secretary's duties to be split as mentioned below. Here is an indication of the duties carried out by Cate and her predecessors: -
Maintain a list of village hall management committee members – this is best done on computer.
Take Minutes of committee meetings – this is a task that could be undertaken by a separate Minute Secretary.
Liaise with OSCR (the charity regulator) ensuring that returns are made on time including the Trustees and Chair's report and Treasurer Accounts when they have been signed off by the scrutineer. Liaise with the Building Sub – Committee regarding works being carried out/to be carried out on the fabric of the hall and surrounds.
When appropriate, apply for grant funding from windfarms, MACC and others, working along with the treasurer.
Liaise with the Hallkeeper to arrange visits by tradespeople when necessary.
Arrange notices for events such as AGM's in good time to encourage attendance.
Liaise with website (eastkintyre.org) for any relevant information to be uploaded for the community to access and read.
Maintain policies such as safeguarding, terms and conditions of hire, equal opportunities and health and safety and to maintain an accident book.
As the hall is such an important part of our community the Committee would like to think that somebody or somebodies will express interest in doing all or any of the matters mentioned above. If, therefore, you are such a person and would like to offer your services please get in touch either with Alan Walker (agtezel@gmail.com or Tel:0777 1982161) or with James McKinven (jimmckinven@hotmail.com or 431354). 
Carradale Village Shop Volunteers
Volunteers are a major part of the success of Carradale Community Shop. As the summer approaches the footfall is increasing which in turn increases the workload for paid staff and Volunteers. We are looking for additional volunteers to join our team. If you are able to offer your support please get in touch. Message or pop into the shop for a friendly chat. 
Carradale Volunteer Firefighters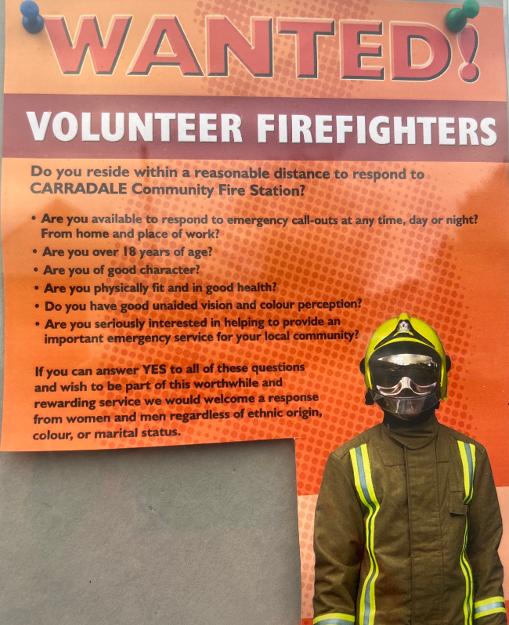 Carradale Community First Responders
We are group of local volunteers trained by the Scottish Ambulance Service. We are dispatched in response to certain 999 emergency calls in our locality to support patients prior to the arrival of an ambulance and paramedic.  If you would be interested in joining please contact Dr Malcolm Elder at Carradale Surgery.
If you have a vacancy you wished noted on the website, please email